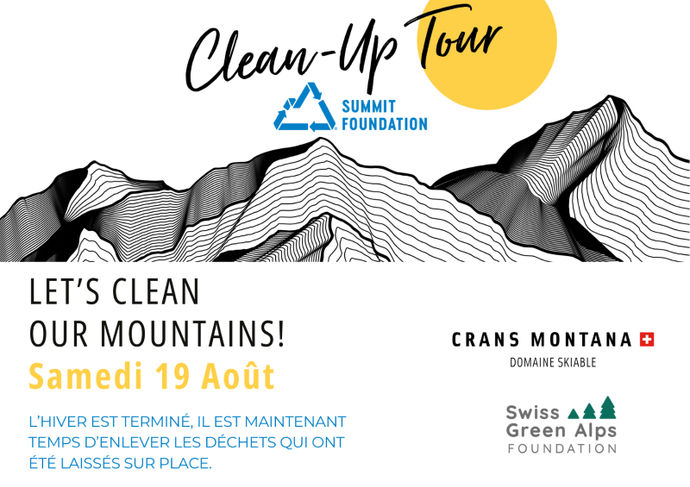 Clean-Up Tour
Summit Foundation coordinates the Clean-Up Tour in cooperation with the Crans Montana ski lifts and organizes a waste collection day at the Plaine Morte on Saturday August 19th, 2023.
Program :
9am Welcome, Registration & Gift participants at the Crans-Cry d'Er departure gondolas.
9.15am Ascent to Cry d'Er.
9.40- 10am Café / Croissant + Summit Foundation briefing & start of the pick-up.
12am Meet at the intermediate station of the TC Violettes Express "Marolires": Descent with the gondolas
12.15am - 1.30pm Raclette offered at the Seven Bar in Barzettes.
1.30 - 3.30pm Conclusion and weighing of the waste at Les Barzettes.
Equipment:

- Shoes adapted to the mountain (hiking boots, trekking shoes).
- Depending on the weather, protection against sun, wind and rain.
The material for the cleaning, such as gloves or garbage bags will be given to you on site.
Information and registration via this form until 17.08.2023
Clean Up Tour 2023 :
Pic @davnesto
Remontées mécaniques de Crans Montana Aminona (CMA) SA · P.O. Box 352 · 3963 Crans-Montana · Switzerland