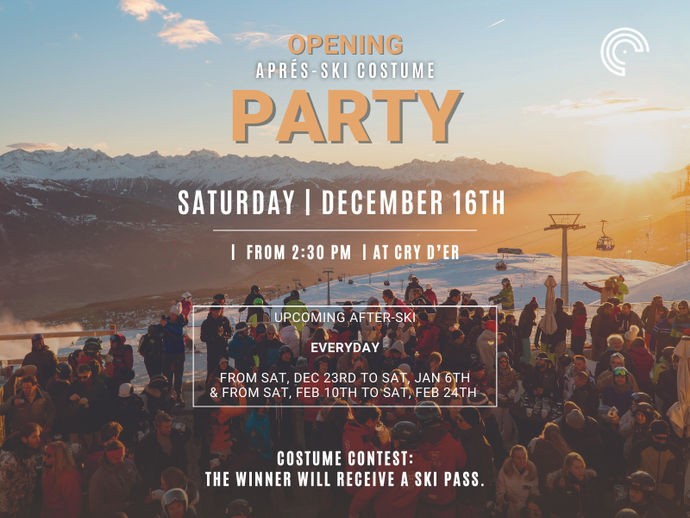 Opening after-ski party
Get ready for an exceptional day at Cry d'Er Club d'Altitude on 16 December from 2.30pm for our long-awaited "Opening after-ski Party".
This year we've got something extra special planned to get you in the mood for the winter season.
The event is set apart by its fun theme: Après-ski in fancy dress! Get out your most creative costumes, your most original outfits, and join us for a day of festivities and madness.
And the icing on the cake? The best costume of the day will be rewarded with a skipass, the ultimate access to the snowy slopes for an unforgettable skiing experience.
Whether you're a fan of skiing, a party-goer or a fan of costumes, the Opening après-ski Party promises to be an exceptional event. So get your friends together, get your fancy dress on and get ready to hit the slopes for an unforgettable day of skiing and dancing at Cry d'Er Club d'Altitude. Don't miss this unique opportunity to kick off the winter season in style!
The following after-ski events will take place every day from Saturday 23 December to Saturday 6 January, then from Saturday 10 to Saturday 24 February.
Remontées mécaniques de Crans Montana Aminona (CMA) SA · P.O. Box 352 · 3963 Crans-Montana · Switzerland