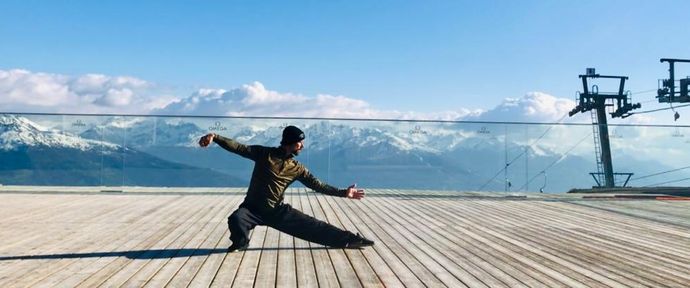 Tai Chi at Cry d'Er
Come and practise meditation in motion at 2200m with Chany Jeanguenin.

Improve your body and mind through the flowing movements of Tai Chi. This course, accessible to all levels, takes place at 2200m and will guide you in the search for a state of harmony between body and mind. The methods of Tai Chi Chuan combine flexibility and internal strength in the search for balance between yin (the energy of the earth) and yang (the energy of the spirit).
You can access Cry d'Er from the Crans cable car, and the class will take place on the Cry d'Er Club d'Altitude terrace in front of an exceptional panorama, accompanied by Swiss Martial Arts Champion Chany Jeanguenin.
booking required
Meet at 8.30am at the start of the Crans gondola.
The one-off price of CHF 35 includes the class and a free detox juice to round off the energy sequence.
Access to Cry d'Er for the activity is provided by cable car from Crans at no extra charge.

Dates :
Saturday 15 July
Monday 17th July
Thursday 3rd August
Saturday 5th August
Friday 11th August
Saturday 26 August*
*On 26 August you'll have the chance to enjoy a nature lesson at sunrise at Plaine Morte.
Meet at 5.25am at the departure of the Violettes Express gondola.
Special price for Tai Chi at sunrise :
With breakfast CHF 65.00 with lift pass
CHF 85 without lift pass

Without breakfast CHF 30.00 with lift pass
CHF 55 without lift pass
Remontées mécaniques de Crans Montana Aminona (CMA) SA · P.O. Box 352 · 3963 Crans-Montana · Switzerland